The Compact Workhorse: T64H-Relay PLC

The T64H-Relay PLC packs in a total of 40 opto-isolated inputs, 24 relay-contact outputs, AC input/DC output power supply circuitry and two independent serial ports into an extremely compact circuit board. Internally, each T64H controller comprises 256 internal relays, 40 timers, 40 counters and 8 sequencers. In addition to basic high-speed AND/OR/OUT instructions, the T64H supports a number of useful special functions such as sequencers, reversible up/down counters, differentiated instructions and latch relays to handle the most demanding applications. Up to 800 program steps can be permanently stored in the on-board EEPROM.
The T64H-Relay features two independent serial ports: one RS232C port which allows program transfer and monitoring from a PC, and one RS485 port ready for networking to a master controller for data analysis or supervisory control. Both serial ports may be simultaneously accessed by two computers, making the T64H controller an ideal choice for constructing a distributed control production system.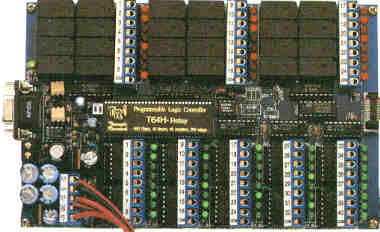 Photograph of T64H-Relay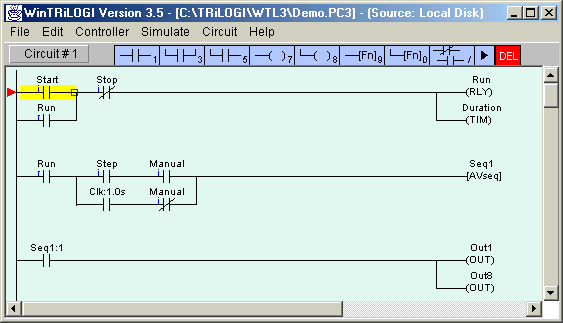 WinTRiLOGI Ladder Logic Programming Editor
and Simulator software
Main Features
Built-in Power Supply
40 bi-directional opto-coupler isolated Inputs With LED Indicators
24 Relay Outputs with 2A @ 250V AC Rating
Programmable in Ladder Logic software With SIMULATOR - TRiLOGI
- Creates ladder program using meaningful names
- Uses simulator to fully test programs on the PC screen before downloading
- On-line monitoring of all I/O logic states on ladder diagram or on full screen
Two Independent Serial Ports
- One opto-isolated RS232C connect directly to computer.
- One RS485 interface. Each controller can assume an 8-bit ID.
- Host computer can access any controller linked to it by just two wires!
EEPROM Program Storage (800 steps, 40 years)
Very compact. Only 19.0cm (L) x 12.0cm (W) x 2.0cm (H)
Detachable Screw Terminal Blocks
Download T64H-Relay Installation Guide (303K) - "inst-t64.zip"
Download H-series PLCs User Manual (109K) - "userguid.zip"
Download WinTRiLOGI Programming Editor Help Files - WinTRiLOGIHelps.pdf
Watch a Flash Video Presentation on E and H-series PLC
T64H-Relay Starter Kit
1) T64H-Relay PLC x 1
2) 5 ft long DB9 serial cable x 1
3) WinTRiLOGI Programming Software x 1
4) Programming Manual x 1
5) T64H-Relay Installation Guide x 1
6) H-series User's Manual x 1
Order On-Line Now
or call: 1-877-874-7527
---
---
© Copyright 1998 Triangle Research International Pte Ltd.
All Rights Reserved