"i-TRiLOGI" is the name of the ladder or ladder+BASIC programming software for the Nano-10, FMD and F-series PLCs via LAN or the Internet. It can also be used for programming the legacy M-series (T100MD+ and T100MX+) PLCs, although some of features are not available to the legacy PLCs.
i-TRiLOGI has a built-in Simulator which allows ladder or ladder+BASIC program to be simulated on a PC without purchasing the PLCs. As such the i-TRiLOGI software is an ideal training tool for learning PLC programming. Students or technicians can quickly create a ladder logic program on their laptop and instantly test the program using the simulator.
1. i-TRiLOGI Video Tutorial
Please click the following image to play the video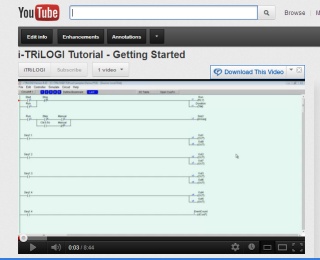 Mr Kevin Collins of the Institute of Technology Sligo of the Republic of Ireland first published this PLC learning book in 2006. What's noteworthy is that all examples and assignmnts in the book are created using the i-TRiLOGI software. As such this is a great companion to the i-TRiLOGI for anyone wanting to learn the basic of ladder logic programming. Mr Collins has since donated this book to the educational community and allow any i-TRiLOGI user to download the PDF version of the book absolutely free-of-charge.

Click to download: PLC Programming For Industrial Automation by Kevin Collins

Note: This book is suitable for beginners to Ladder Logic programming. Most examples in the book are created using the TRiLOGI software. However, there are no TBASIC examples.
---
We have always made available educational versions of the TRiLOGI software for free download by anyone! This highly acclaimed PLC software is fully functional (not time-limited) and has been used by many companies, colleges and technical institutes in many countries to train new users on ladder logic programming, including Australian RMIT, TAFE and Old Dominion University of the USA, Purdue University, State University of New York, Kent State University and many other colleges and universities around the world (See PLC course instructor's comments). To-date, more than half a million copies of this absolutely FREE program have been downloaded by PLC learners all around the world!
The Internet TRiLOGI Version 6 runs under Windows 95/98/ME, Windows 2000, NT, XP, Vista or Windows 7, making an already highly effective PLC learning tool better than ever! PLEASE REGISTER USING THE FOLLOWING FORM. Our autoresponder will email you the password-protected download link and the username and password for logging in to our website.
Privacy Policy: Triangle Research International (TRi), Inc. WILL NOT disclose or sell your information to any other companies. We may occasionally send you news on new product release or new software version, but we will not bombard you with regular newsletters and we honor all requests for removal of email addresses immediately.