Low Cost, Compact Relay Ladder Logic Embedded PLCs
"Your PLC I purchased for our prototype system did exactly as you said. The instructions were clear and your on line help was very good. I will continue trading with you in the future. We have no plans to look for alternative PLCs other than your products". - Click here to read what other users say about our PLC products and services
I. Introduction
The H-series PLCs are a family of small, low cost, pure relay-ladder logic (i.e. No BASIC) based PLCs that are available since 1993. The family spans from the T22H with 12 inputs, 10 outputs to the T64H with 40 inputs and 24 outputs. Members of the H-series controller family differ mainly in the number of I/Os (inputs/outputs), and the type of I/Os they carry (relay or transistor outputs, PNP or NPN types, opto-isolator inputs or high voltage inputs, etc). Since each different PLC model has different wiring requirements, please refer to their respective Installation Guide on the wiring methods and installation details. The number of I/Os, timers, counters, internal relays as well as the maximum allowable program steps are also stated in the Installation Guide.

All H-series PLCs are original programmable by means of only the DOS version of TRILOGI software. However, in response to popular customers' request, in Q4/2003 we introduced the Windows version of the TRiLOGI software - WinTRiLOGI version 3.5, specifically for programming the H-series and E10+ PLCs.
The H-series PLCs includes the T22H-npn, T28H-Relay, T40H-Relay, T44H-pnp, T44H-npn and the T64H-Relay. The following table summarizes the number of I/Os, timers, counters and internal relays for each existing model:

Model Name

Inputs

Outputs

Internal Relays

Timers

Counters

Maximum Program
Steps

12

10

128

20

20

400

16

12

128

20

20

400

24

16

128

20

20

400

28

16

128

20

20

400

40

24

256

40

40

800
Please note that For T22H, T28H, T40Hand T44H, an enhanced CPU option is available which provides 256 internal relays, 40 timers, 40 counters and 800 steps. These PLCs are given respective model names such as T22Hplus-npn, T28Hplus-Relay, T40Hplus-Relay, T44Hplus-pnp and T44Hplus-npn.
II. Hardware Specifications
III. Software Features and Programming Methods
WinTRiLOGI Version 3.5
- download Help Files here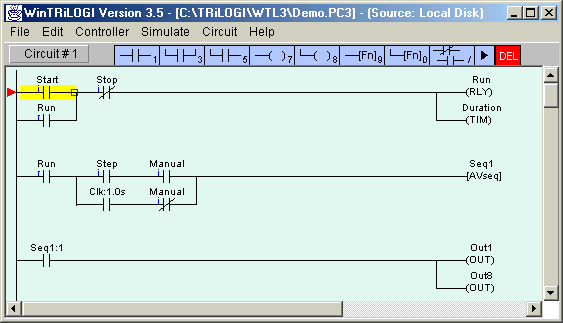 IV. Host Communications
All H-series PLC have built-in communication capability which enable a host computer to send command to read or alter any of the internal logic states of inputs, outputs, relays, timers or counters. Click here to download the Communication Protocols.