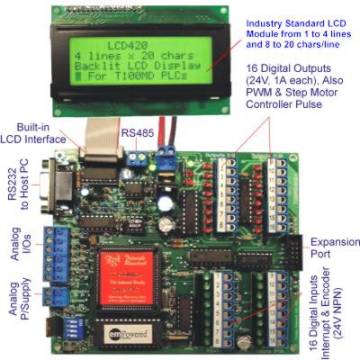 Photograph of T100MD1616+
T100MD1616+ Starter Kit
(Include i-TRiLOGI Software)
*T100MD1616+
(with 20mA Analog output!)
* Note: This is a Legacy Product as of 1/1/2012 and has been replaced by the FMD1616-10.
5 Analog I/O
- 4 x AI - 10 bit 0-1V x2 and 0-5V x2
- 1 x AO - 8 bits (0-20mA)

16 Digital Outputs
- 1A @24VDC each.
- include PWM and stepper motor
controller outputs

16 Digital Inputs (24V NPN)
- include special inputs such as
interrupts, high speed encoder, etc.

Expandable to 96 In, 96 out using EXP4040 and EXP1616R.

Dimension: .5.4"(L)x 4.5"(W) x 0.8"(H)

Optional DIN-rail mounting kit for easy installation.